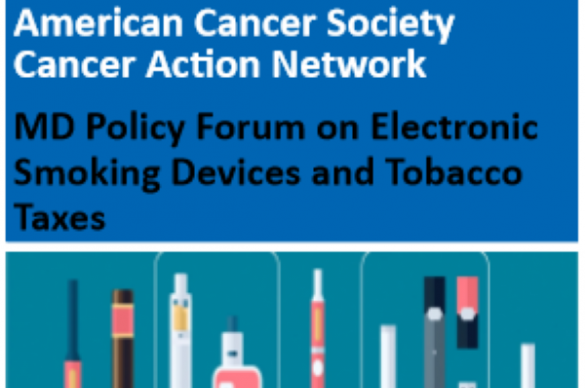 2019 Maryland ACS CAN Policy Forum on Electronic Smoking Devices and Tobacco Taxes
Tuesday, October 22, 2019 -

9:00am

to

11:30am
Anne Arundel Medical Center- Doordan Institute
2000 Medical Parkway
Conferences Room EF- Seventh Floor, Belcher Pavilion
The American Cancer Society Cancer Action Network (ACS CAN) is hosting its annual Maryland policy forum, Tobacco and Electronic Smoking Device Taxes, at the Anne Arundel Medical Center—Doordan Institute in Annapolis, MD on Tuesday, October 22nd, 2019, 9-11:30am. This year's forum is dedicated to educating patients, providers, public policy makers, the media, and the public about the toll of tobacco in Maryland, and will highlight a comprehensive approach to tobacco control that includes increasing excise taxes on all forms of tobacco including taxing electronic smoking devices.
Speakers
Senator Cory McCray (D-45), Senator Sarah Elfreth (D-30), Delegate Eric Luedtke (D-14), Laura Hale (American Heart Association— MD Government Relations Director), Dr. Panagis Galiatsatos  (Pulmonary & CCM Assist Professor at Johns Hopkins - Co-Director, Medicine for the Greater Good), Eric Gally (President, Gally Public Affairs), Cathy Callaway (ACS CAN Director, State and Local Campaigns—Prevention), and Jocelyn Collins (ACS CAN MD and DC Government Relations Director).
Toll of Tobacco in Maryland
Tobacco remains the leading cause of preventable death in Maryland, claiming the lives of more than 7,500 adults annually. The proportion of cancer deaths attribute to smoking is 27.3%.
There are 25,200 high school students in the state who currently smoke and about 1,900 kids become new daily smokers each year. Currently, 21.6 percent of Maryland youth use some form of tobacco, including: 13.3 percent currently use electronic smoking devices, 9.0 percent currently use smoke cigars, 8.2 percent smoke cigarettes, and 6.2 percent currently use smokeless tobacco. 
Tobacco initiation and use by youth and young adults can substantially be reduced using effective tobacco control strategies, including: increasing the price of tobacco products through regular and significant cigarette and other tobacco product taxes.
Sponsorship Opportunities
ACS CAN is committed to ensuring that our progress to prevent cancer and save more lives continues by collaborating with key partners.  We invite you and your organization to join us in the fight against cancer by sponsoring this year's event.
Thank you to our Policy Forum Sponsors!
Gold Level Sponsorship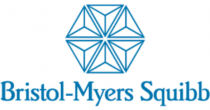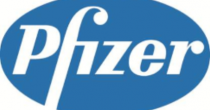 Bronze Level Sponsorship
Genentech
Janssen Oncology
Sanofi
American Cancer Society Cancer Action Network
ACS CAN is the nonprofit, nonpartisan advocacy affiliate of the American Cancer Society and is the nation's leading cancer advocacy organization working every day to make cancer priorities a state and national priority.  ACS CAN is committed to ensuring that our progress on critical policy issues is achieved in collaboration with key partners.  We invite you to join us in this critical dialogue and help us all save more lives from cancer. 
For more information contact Jocelyn Collins | [email protected] | 301.254.0072
Contributions or membership payments to the American Cancer Society Cancer Action Network, Inc. are not tax deductible.