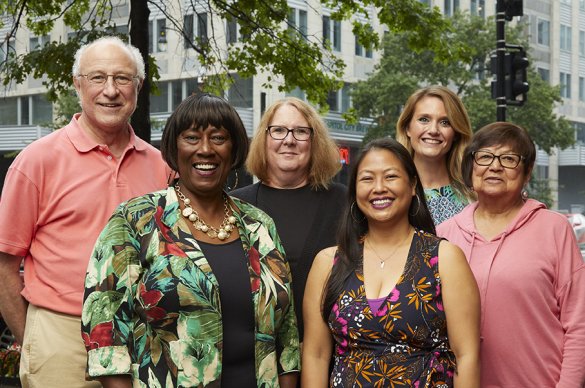 2019 ACS CAN Closing the Health Disparity Gaps in Cancer Policy Forum
Thursday, May 30, 2019 -

9:00am

to

10:30am
Join us on May 30th for the 2019 ACS CAN Closing the Health Disparity Gaps in Cancer Policy Forum in Albany.
Despite decreasing cancer death rates across the nation, not all have benefited equally from advances in prevention, early detection and treatment. 
Join the American Cancer Society Cancer Action Network at our Upstate Policy Forum for a lively discussion regarding the scope of cancer disparities that exist across New York and how we can shape policies to close these gaps.
Keynote Speaker
Michelle Azu, MD, FACS 
Director, Breast Surgical Services and Associate Director, Breast Disease Management Team, NewYork-Presbyterian/Lawrence Hospital

Dr. Michelle Azu is a fellowship trained breast surgeon specializing in
breast surgical oncology as well as benign breast diseases. She
completed her breast surgery fellowship training in at Memorial Sloan-
Kettering in New York, New York. Dr. Azu is Assistant Professor of
Surgery at Columbia University Medical Center and the Director of
Breast Surgery at a New York Presbyterian Lawrence Hospital.
As a member of the American College of Surgeons and the American
Society of Breast Surgeons, Dr. Azu is constantly in conversation with
other experts in breast surgery allowing her to offer her patients the
most up-to-date information on their disease. She loves empowering
women by helping them achieve breast wellness through education,
and treatment only when necessary.
Dr. Azu has received numerous honors throughout her career including
recently being listed a New York Magazine Super Doctor in breast
disease. She always looks forward to new opportunities to educate
about breast concerns, and is especially passionate about disparities in
breast cancer.
Panelists
Wayne Lawrence

Wayne Lawrence is a Presidential Doctoral Fellow and doctoral candidate at the University at Albany School of Public Health. Mr. Lawrence's research is in the field of cancer epidemiology, with an emphasis on minority and underserved populations. Throughout his graduate training, his research integrated epidemiological, biological, environmental, and behavioral approaches to understand cancer disparities across the continuum of care. Currently, he is a Graduate Research Assistant at New York State Department Health utilizing a Cancer Registry-Medicaid linkage to investigate potential risk factors contributing to racial disparities in breast cancer survival in New York State.
Thank you to our sponsors: