Welcome to your new Ambassador Action Center.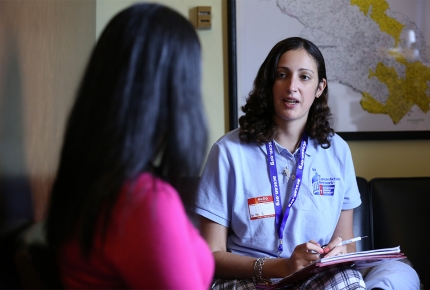 First, let me thank you for your commitment to become an Ambassador. Whether you are a volunteer leader or a valued team member, you are the voice and heart of ACS CAN in your state and community.
As an important member of our growing grassroots army, you play a key role in helping us achieve our mission of decreasing suffering and death from cancer. Working together with staff and other committed volunteers from across the nation, you are the one that puts the "ACTION" in the Cancer ACTION Network.
We're very excited to provide you with this real-time reporting tool.  We know you'll appreciate many of the great features it has to offer, including:
Easy reporting of your actions
Real-time look at your progress in completing your personal and team goals
Reports to see the progress of the volunteers you manage
What should you report?
The Ambassador Action Center tracks activities in five major categories.  We encourage you to explore each category to see the recommended goals, options and requirements for fulfilling your volunteer commitment.  You can see all of the options by clicking the Record My Action link at the top of the website.
Reporting your activities provides ACS CAN staff with the ability to view what is happening in the course of a campaign, and determine what actions being taken by individuals and teams are most effective as the campaign progresses.  We encourage you to report your activities soon after you complete them, and at least once per month.
Who will see my reports?
Once you enter your activity, your state staff partner will be alerted, and then can view and compile reports of your specific actions, and modify or edit your entries. All Ambassadors in the system can see a cumulative representation of you actions in each action category, as well as a ranking with other ambassadors and teams nationally in the same volunteer role.
Is there training available?
We have a recorded a series of short video trainings to guide you through the Ambassador Action Center.  We encourage you to go to our training resources page and learn how you can maximize this new tool.  If you have further questions after watching the videos, please contact your staff partner.