Register for Ohio's Breast & Cervical Cancer Advocacy Month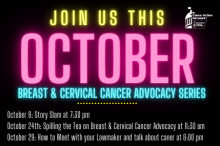 The American Cancer Society Cancer Action Network (ACS CAN) will host a monthlong series educating Ohioans on the Breast and Cervical Cancer Program (BCCP) while providing the tools and platform to continue advocating for this important program. This series will feature perspectives of leaders in research, health and advocacy leaving Ohio better positioned to advocate for continual funding of the BCCP program.   
Story Slam! October 8th at 7:30 pm: Cancer stories are incredibly important to ACS CAN's advocacy work. Hear from several ACS Voices of Hope volunteers and ACS CAN volunteers as they share their personal stories, encourage others to share their stories and learn how to you're your story  
Spilling the Tea on Breast & Cervical Cancer Advocacy in Ohio, October 24th 10 am - 11:30 am:  An engaging discussion on breast and cervical cancer hosted by Dayton's own Rubi Girls, this discussion will explain how the breast and cervical program works in Ohio. Registered participants will receive a package of pink tea in the mail to enjoy along with our morning session.
Meeting with your lawmaker, ACS CAN's Hook, Line & Sinker Training, October 29th at 6:00 pm: Receive training from ACS CAN. Hear real world stories about lawmaker meetings and how we structure our stories to make the most impact. Practice with us and even sign up to attend a virtual lawmaker meeting with one of our volunteers.
Thank you for registering for our Ohio Breast & Cervical Cancer Adocacy Month. You will receive a Save the Date calendar invite from Ohio's Grassroots Manager, Lauren Coatoam and a link to the event the day before your registered event(s). 
Please feel free to submit questions to [email protected] 
We look forward to seeing you during our month of advocacy and education.