Pledge to Vote YES in November & Help Us Save Lives!
Smoking is still the number one cause of preventable death in Oregon. We have to do something!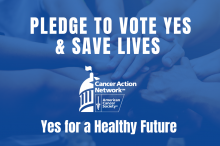 This year alone in Oregon, tobacco will claim the lives of nearly 5,500 people. That's 15 people each day. It's time to fight back against Big Tobacco. Right now, we need your help to win this fight. 
Passing Measure 108 is the best tool we have to help people who smoke and prevent kids from ever starting. In fact, this ballot measure could help save 19,000 children and young people from tobacco addiction. Measure 108 will save lives by incresaing the tobacco tax and introducing a tax on e-cigarettes for the first time in Oregon. Funds from this tax will help to support healthcare, tobacco prevention and education work. 
ACS CAN is part of a diverse group of patient advocates, anti-smoking activists, nurses, doctors, and health care providers forming the coalition, Yes for a Healthy Future , ACS CAN is calling for you to pledge to vote YES on Measure 108
Be a part of the fight against the youth tobacco epidemic and pledge to vote YES! 
Want to do more and learn more? Check out our ACTION page here!