Please join us on September 29 for the 2020 ACS CAN Missouri Policy Forum, CancerTalks: Drug Development and Ensuring Access to New Tests & Treatments
Registration for this event has now closed. You can still register at the event. Follow this link at 11:00 am CST on Tuesday, September 29 to join us for our event: acscan.windrosemedia.com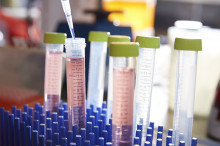 Cancer remains a critical public health problem and how new cures are discovered and delivered will continue to change. Getting new and affordable cancer therapies from the research lab to the patient will require collaborative solutions from researchers, business leaders, providers, and policymakers.
Join ACS CAN for a discussion on what the current drug development landscape looks like and how we can ensure that patients can access the newest tests and treatments. 
Cancer Conversation Topics will Include:
Drug Development:  Advancements in medical research have unleashed new and improved therapies that are revolutionizing cancer care.  What is the process for transforming this research into new drugs and therapies?  What are the challenges in getting new treatments to the market for patients to access them?
Access:  Understanding and addressing the barriers that prevent patients from having access to tests, drugs and treatments is a crucial step.  How can we make sure that patients have access to the tests, drugs, and treatments they need?      
Thank you to our sponsors:
Silver Level Sponsors:                                                             
Bristol Myers Squibb                                                                 
Merck 
Novartis                                                                                        
Pfizer
Community Support Sponsors:
Genentech
GRAIL
Janssen Oncology
PhRMA
Thank you for registering for our 2020 ACS CAN Missouri Policy Event
Save this event to your Outlook calendar