Join our Coalition: Expand Biomarker Testing Access in Florida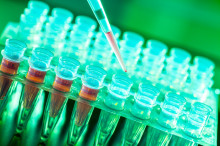 Progress in improving cancer outcomes increasingly involves the use of precision medicine, which uses information about a person's own genes or proteins to prevent, diagnose or treat diseases like cancer.
Biomarker testing is an important step to accessing precision medicine which includes targeted therapies that can lead to improved survivorship and better quality of life for cancer patients.
Not all communities are benefitting from the latest advancements in biomarker testing and precision medicine, in part because insurance coverage for biomarker testing is failing to keep pace with innovations and advancements in treatment.
We must work to dismantle barriers that prevent patients from benefiting from biomarker testing and precision medicine, and work to ensure all patients benefit, regardless of race, ethnicity, gender, age, sexual orientation, socioeconomic status or zip code. Join ACS CAN in calling on the Florida Legislature to require appropriate coverage of biomarker testing for public and private insurance plans.
If you would like your organization to be listed in support of these principles, please complete the form below. If you have questions about this issue or how this coalition list will be used, please contact Storm Goodlin at [email protected]. 
Thank you so much for submitting your information! A member of our coalition will reach out to you shortly with more information. For any questions, please reach out to Storm Goodlin at [email protected]