ACS CAN South Carolina Cancer Action Day: Suits and Sneakers 2021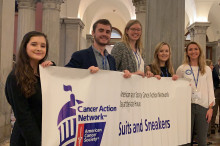 This year, nearly 32,000 South Carolinians will hear the words "you have cancer" – 32,000 friends, neighbors, co-workers, and loved ones.
Please join us for our virtual ACS CAN South Carolina Cancer Action Day: Suits and Sneakers, where you will have the opportunity to talk with your lawmakers about cancer related policy issues that are important to the health of South Carolinians. This year our priorities will be focused on tobacco regulation and ensuring everyone has access to cancer screenings and treatments.
Training and much more detail will be provided to those who register.
We need your voice (virtually) at the State House on February 3rd when you can share your story and connection to cancer with South Carolina lawmakers.  Thank you for joining us! 
Save this event to your Outlook calendar
Participant Consent
When you attend an American Cancer Society, Inc. ("ACS") or American Cancer Society Cancer Action Network ("ACS CAN") event or program, you enter an area where photography, audio, and video recording may occur. By attending the event, you consent to interview(s), photography, audio recording, video recording and its/their release, publication, exhibition, or reproduction to be used for news, web casting, promotional purposes, telecasts, advertising, inclusion on websites, or any other purpose by ACS or ACS CAN. You release ACS or ACS CAN its officers and employees, and each and all persons involved from any liability connected with the taking, recording, digitizing, or publication of interviews, photographs, computer images, video and/or or sound recordings.
If you do not wish to appear on video, please join the event without authorizing the video. Similarly, if you do not wish to have your voice recorded, you may mute your line. Lastly, ACS and ACS CAN are unable to guarantee anonymity for comments placed in the chat, including the name and email of the person posting. If you are concerned with publication of these items, please do NOT post in the chat. By attending the event, you waive all rights you may have to any claims for payment or royalties in connection with any exhibition, streaming, web casting, televising, or other publication of these materials, regardless of the purpose or sponsoring of such exhibiting, broadcasting, web casting, or other publication irrespective of whether a fee for admission or sponsorship is charged. You also waive any right to inspect or approve any photo, video, or audio recording taken by ACS or ACS CAN or the person or entity designated to do so by ACS or ACS CAN. You have been fully informed of your consent, waiver of liability, and release before entering the event.
Thank you for registering for the ACS CAN South Carolina Cancer Action Day: Suits and Sneakers! 
We have planned an exciting day full of opportunities for you to meet with your elected offical and other cancer advocates... all in the comfort of your home or office.  
A volunteer training will be held from 6:30pm-7:30pm on January 28th to help you prepare for the big day on February 3rd.  The training will provide details on the issues we will be talking about with our elected officials and instructions on how to navigate the day all online. 
In the meantime, invite your friends to attend our Cancer Action Day and reach out if our team can assist you in any way.