2021 ACS CAN Central & North Florida Virtual Policy Forum
Left Behind: Health Inequities In Cancer Care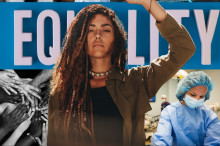 Friday, August 6, 2021 - 9:00am EST
Health inequities adversely affect groups of people who have systematically experienced greater social or economic obstacles to health based on their racial or ethnic group, socioeconomic status, gender, sexual orientation or gender identity; geographic location; or other characteristics historically linked to discrimination or exclusion. ACS CAN believes no matter your race, identity, where you work, how much you make or who you love, everyone should have access to quality and affordable health care. 
On Friday, August 6th, 2021, the American Cancer Society Cancer Action Network (ACS CAN) will host its fourth annual Central & North Florida Virtual Policy Forum to discuss cancer patients ability to access screening, obtain health insurance, find a health plan that covers the therapies they need at a cost they can afford, as well as other social determents which have created additional barriers to achieving and maintaining health. 
Register now to join us for a critical conversation.