ACS CAN Minnesota 2021 Legislative Priorities
This year in Minnesota, more than 33,210 people will hear the words "you have cancer" and more than 10,000 will die from the disease. The good news is the five-year relative survival rate for all cancers has continued to improve. However, while cancer affects everyone, it does not affect everyone equally. Certain racial and ethnic groups, low income Minnesotans, folks living in rural areas, and other medically underserved individuals face higher rates of cancer, later stage diagnoses, and higher rates of mortality.
The American Cancer Society Cancer Action Network (ACS CAN) is committed to making sure all Minnesotans have a fair and just opportunity to prevent, find, treat, and survive cancer. In 2021, ACS CAN will work with the Minnesota state legislature in support of the following priorities:
 
Cancer Prevention and Early Detection
Breast and Cervical Cancer: ACS CAN will advocate to maintain funding for Sage Screening Program, Minnesota's breast and cervical cancer screening program for low-income uninsured and underinsured women administered by the Minnesota Department of Health.  Women of color and American Indians are screened at a lower rate in Minnesota, and the Sage Screening Program works to reduce health disparities in screening and treatment.
Statewide Health Improvement Partnership: The Statewide Health Improvement Partnership (SHIP) is helping Minnesotans live longer, healthier lives and contain health care costs by engaging communities in evidence-based strategies to reduce obesity and tobacco use. ACS CAN supports maintaining the existing funding level of $35 million for SHIP.
Reducing the Toll of Tobacco
Tobacco Prevention Funding:  Tobacco use is the leading risk factor for cancer. Funded by the tobacco settlement, ClearWay Minnesota,SM which provides most of the funding for tobacco prevention in Minnesota, will end in 2021. A long-term, sustainable solution must be in place before its sunset to continue to make strides against tobacco-related cancers in Minnesota. We support dedicating $15 million for commercial tobacco prevention and cessation programs in Minnesota.
Flavored Tobacco Products: 80 percent of youth who have ever used a tobacco product started with a flavored product. The tobacco industry markets fruit and candy flavored products, including menthol cigarettes, to youth, African Americans, American Indians, the LGBTQ community, and other specific populations. ACS CAN supports ending the sale of menthol cigarettes and all other flavored tobacco products, including e-cigarettes, flavored cigars, hookah, and smokeless tobacco.
Ensuring Access to Quality Care
Telehealth: Telehealth provides cancer patients and survivors with a convenient means of accessing both cancer care and primary care – a particularly important option for individuals living in greater Minnesota and the immunocompromised. Telehealth can help reduce health disparities and improve health outcomes for all individuals.  ACS CAN supports the use of telehealth services, recognizing that patients' and survivors' use must always be voluntary and cannot replace all face-to-face visits.
Prescription Drug Transparency: Co-insurance instead of flat-fee copayments can make it challenging for patients to understand how much they will have to pay for their drugs. ACS CAN supports policies to encourage more copay only plans.
Cancer Research
Cancer Reporting System: ACS CAN supports legislation that would allow Minnesota to share its cancer data with other state and national cancer registries.
Sign the petition and show your support for programs that provide mammograms and cervical cancer screenings to uninsured, low-income Minnesota women.
We'll use our individual stories to protect funding that ensures all Minnesota women have access to breast and cervical cancer screenings, regardless of income or insurance status.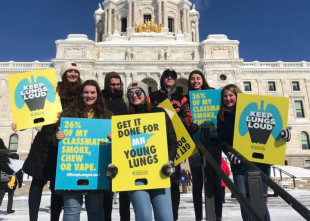 Sign the petition and show your support to end the sale of all flavored tobacco products, prevent youth tobacco use, and help adults quit in Minnesota.