2023 ACS CAN Minnesota State Legislative Priorities
Victory in the fight against cancer requires bold new public policies that promote cancer prevention, early detection of cancer, and expand equitable access to quality, affordable health care. Lawmakers make many decisions that affect the lives of Minnesotans impacted cancer and their leadership is vital to defeating this disease. The American Cancer Society Cancer Action Network (ACS CAN) is committed to making sure all Minnesotans have a fair and just opportunity to prevent, find, treat, and survive cancer. In 2023, ACS CAN will work with the Minnesota state legislature in support of the following priorities: 
Ensuring Access to Quality Care 
Access to Biomarker Testing: ACS CAN will advocate for improved coverage of comprehensive biomarker testing. Biomarker testing is an important step to accessing precision medicine that can lead to improved survivorship and better quality of life for cancer patients, but insurance coverage is failing to keep pace with innovations and advancements in treatment. Legislation is needed to ensure all Minnesotans, regardless of income, geography, race, ethnicity, or age, can access biomarker testing.  
Improving Patient and Caregiver Quality of Life 
Minnesota Palliative Care Advisory Council: ACS CAN supports legislation to fund the Minnesota Palliative Care Advisory Council, which works to identify barriers to coordinated, supportive care during the treatment of serious illnesses such as cancer.  ACS CAN also supports legislation to extend or remove the sunset on the Council, which is set to expire on January 1, 2025. 

Paid Family and Medical Leave: ACS CAN will advocate for legislation that ensures all working cancer patients, survivors, and caregivers have access to paid family and medical leave that allows them to take time off work to attend to their own or a loved one's care without losing their job or income. 
Cancer Prevention and Early Detection 
Breast and Cervical Cancer: ACS CAN will advocate to maintain funding for Sage Screening Program, Minnesota's breast and cervical cancer screening program for low-income uninsured and underinsured women administered by the Minnesota Department of Health. Women of color and American Indians are screened at a lower rate in Minnesota, and the Sage Screening Program works to reduce health disparities seen in screening and treatment. 

The Statewide Health Improvement Partnership (SHIP): SHIP helps Minnesotans live longer, healthier lives and contain health care costs by engaging communities in evidence-based strategies to reduce obesity and tobacco use. ACS CAN Minnesota supports full funding for SHIP. 
Reducing the Toll of Commercial Tobacco  
Ending the Sale of all Flavored Tobacco Products: The tobacco industry markets fruit and candy flavored products, including menthol cigarettes, to youth, African Americans, American Indians, the LGBTQ+ community, and other specific populations. ACS CAN supports legislation to end the sale of menthol cigarettes and all other commercial flavored tobacco products, including e-cigarettes, flavored cigars, hookah, and smokeless tobacco.  

Tobacco Prevention and Cessation Funding: ACS CAN supports funding for tobacco prevention and cessation programs and will work to ensure any revenue collected from the state's Juul lawsuit is dedicated to proven, evidence-based tobacco prevention and cessation programs. 

Access to Tobacco Cessation Treatment: ACS CAN supports legislation to remove barriers to tobacco cessation treatment for Medical Assistance and MinnesotaCare enrollees, ensuring more Minnesotans have a comprehensive cessation benefit that covers individual, group, and telephone counseling and all FDA-approved tobacco cessation medications without barriers, like prior authorization.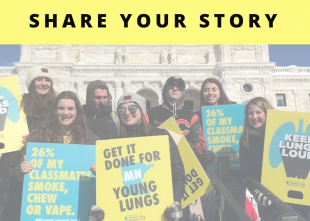 Has tobacco use impacted your life, or the life of a family or friend? Share your story and help us in our work to fund tobacco prevention and cessation programs and end the sale of all flavored tobacco products, including menthol cigarettes and e-cigarettes in Minnesota.
ACS CAN is working to ensure that all Minnesotans can have access to biomarker testing and we need your help! ACS CAN is working to ensure that all Minnesotans can have access to biomarker testing and we're partnering with other organizations to collect stories to illustrate this issue. If you
Minnesota Grassroots Manager